In a very interesting comparative experience to our time at Kilometer 50 Café in the little town of Jose Maria Morelos, in the much larger, beachside, entirely tourist-oriented city of Tulum we stumbled upon something we did not expect to find:  a restaurant dedicated to Slow Food.  It began with a classic gringo tourist experience:  I was standing on the sidewalk and a young white woman approached me and said in a vaguely Germanic or Scandinavian accent, "Hola. Hello. Bonjour.  You speak English?"  When I told her I did, she handed me a flyer for a little restaurant that had just opened called La Slowteria.  It was run, she told me, by a young chef who had worked in high-end restaurants but who had recently taken an interest in the local and regional cuisines of his native Mexico.  It didn't take much convincing for the group to decide to dine there that evening.
The place was unlike any Slow Food eatery you are likely to find elsewhere, in part because it is so new and being run on a shoestring by a very young chef who until last week was cooking at a tiny palapa thatched-roof food stand on the beach with no electricity or running water.  This should give you some sense of his passion.  The café itself is extremely modest in appearance, with a thatched roof and wooden sticks for walls, a couple of tables outside in a makeshift courtyard and a couple more inside the cramped dining room with the even more cramped open kitchen two paces away.  It's also located behind a bus depot, and part of the unusual ambiance of the place is that every 5 or 10 minutes a huge passenger bus heaves past the café with a diesel huff.
The chef came out to greet us and personally tell us the story behind the café, the very unique menu, and each item on it.  He had grown dismayed, he said, that the only thing most tourists, and even an increasing number of Mexicans, seemed to know about Mexican cuisine was tacos, quesadillas, and enchiladas.  He wanted to reinvigorate cuisine – or at least, tourist cuisine – with a sense of local ingredients, local specialties, and the more time-honored traditions of foods being made from scratch, on the spot, with few if any processed ingredients.  The menu was based on a series of playing cards from a game called El Lotto that was introduced to Mexico from Europe in the 18th century.  Each dish on the menu is named after one of the cards, and in keeping with the overall stress on aesthetics, what absolutely stunned us about all of the dishes we ordered was the presentation.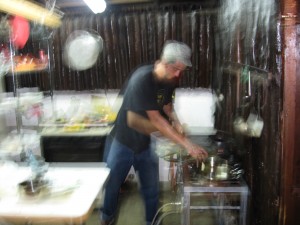 We started by splitting El Sol, a seafood soup for which the chef brought a small cast iron soup pot filled with broth to the table, proceeded to dump each of the ingredients in one by one – fresh tomatoes and onions, fresh herbs, a large leaf of chaya ("the local spinach" as he called it), a little salt, and of course the giant prawn – then a large piece of volcanic rock that he had just heated up on a direct flame, then he covered the pot.  He came back 4 minutes later to remove the rock, and voila it was cooked.  We all passed it around and sipped it with large spoons.
The Mexican salad ("La Estrella") came next, multiple local vegetables including lettuce, shaved carrots, and pumpkin-seed sprouts with a mango-lime vinaigrette, all served inside a green wine bottle with the base chopped off.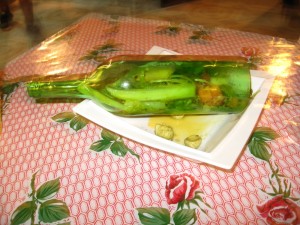 Then came the main dishes.  El Mundo featured a fresh coconut opened with a machete (we watched him do it on a small chopping block), hollowed out, then filled with a mixture of the coconut meat, some local vegetables and herbs, a giant prawn, and tequila.  It was good though not great, mostly because the coconut meat itself was surprisingly bland.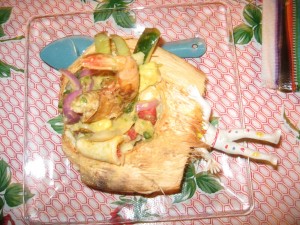 El Musico featured three different meats – a thin strip of steak, a chunk of bacon, and a piece of pork chop, all cooked in a hibiscus reduction sauce in which the hibiscus flowers are kept rather than discarded as most chefs would do – because, as he told us, he likes the texture that the flowers add – and one chunk each of 12 different local vegetables lightly braised.  Delicious and simply unique.  Please note the Mexican wrestler whose head is inserted in the food on the right.
La Luna ("the moon" – see photo for why it's given this name!) was a delicious black bean and cheese quesadilla where the "dough" was more like a crust made of sesame and sunflower seeds pressed together.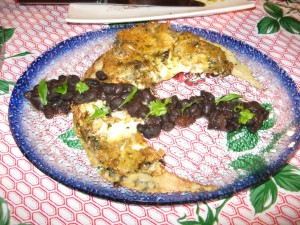 Jenna had El Pescado, a grouper caught fresh from local waters, marinated in fresh lime juice and roasted salt, and served with three seashells each filled with a different condiment – guacamole, roasted vegetables, and black beans.  When Jenna first saw the fish as it was being served she thought she'd have to ask for lemon or lime juice to season it, but she insists it was so perfectly seasoned that no extra juice was required.
But we're not snobs.  For dessert I trotted over to the bus depot and had a chocolate-covered ice cream bar.
What does all this have to do with anything other than a foodie's dreams?  Well this young chef is trying to do something pretty unique – marrying a renewed focus on authentic traditional Mexican cuisine, with an emphasis on slow and traditional preparation methods, with a subtext of local, sustainable agriculture (he has started a small garden just behind the restaurant to grow some of the vegetables he serves).  Think of the economic development possibilities if he succeeds – other restaurants take a greater interest in the local and the authentic; new restaurants open to occupy similar niches; small farms pop up to grow produce for them; Tulum becomes known as a hotspot for lovers of good, fresh, localized cuisine. . . .
On the other hand, he can't entirely extricate himself from the same dilemma faced by Jessica, the proprietress of Kilometer 50 back in the countryside.  To take this route is to cast your lot with the tourist industry, for surely it will be wealthy foreigners who will be the largest and most consistent customer base.  Or will it?  As we sat there, a large party of eight arrived and proceeded to have what seemed to be a grand and slow old time out in the courtyard, smoking, talking, laughing, and waiting for this food to come out one dish at a time.