As we ventured into the "Nature Reserve" on the Hacienda's grounds we crossed an old road leading to a small hill on top of which perched the Hacienda's ancient 16th century Catholic chapel. Obviously there had been a fiesta recently, as papel picados (perforated paper flags) were still flying in the wind.
After exploring the chapel, we descended the hill and noticed the remnants of another ritual, perhaps performed by the same people?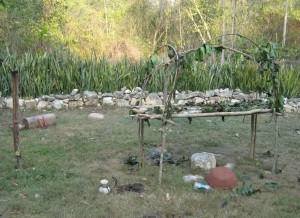 We investigated the site, noting the "altar" surrounded by four hoops of bamboo decorated with leaves and flowers.  The four torches that marked the perimeter of the site were oriented to the compass directions. The hollow log was a "drum", and someone had left the "drum sticks" behind, along with gourd containers. I am not quite sure to which religious tradition these ceremonial remains belong, especially since we know the Spa features a syncretized New Age "Maya" tradition.  Ah, if only I had more time!!